Technical Induction of Polyvinyl Butyral PVB Interlayer Film
All rights reserved by CNC-INTERLAYER TECH:
【Product 1】CNC-Force EVA INERLAYER FOR ARCHITECTURAL LAMINATED GLASS
eva@evafilms.com
【Product 2】CNC-SmartSMART FILM FOR PRIVACY SWITCHABLE GLASS
smartfilm@smartestglass.com
【Product 3】CNC-Shield PVB INTERLAYER FOR AUTOMOTIVE WINDSHIELD GLASS
pvb@pvbfilm.net
Web:
www.CNCglass.com
www.CNCnext.com
www.HelloGlass.com
Mail:
cnc@cncnext.com
benext77@gmail.com
/
benext77@hotmail.com
By Peter Shin
www.HelloGlass.com
Polyvinyl Butyral PVB Interlayer Film Polyvinyl butyral PVB interlayer film is the resin that compounded
from polyvinyl alcohol reacted with butyraldehyde.  Polyvinyl butyral
PVB interlayer film is usually implied in the situation that needs
strong binding, toughness and flexibility. Polyvinyl butyral PVB
interlayer film as a protective interlayer film, is often used to make
automotive laminated glass and architectural laminated glass.
Polyvinyl butyral PVB interlayer film has many properties: Impact
resistance, great adhesion, sound control, UV-radiation filtered, and
good aging resistance.
Technical Parameters of Polyvinyl Butyral PVB Interlayer Film
Note: Following data is general number of PVB Film, and the data may
be different of different Polyvinyl Butyral manufacturers, because the
formula of manufacturing Polyvinyl Butyral may be different.
Property Items PVB
Density 1.069g/cm³
Tensile Strength ≥ 20MPa
Elongation  ≥ 200%
Visible Light Transmission Rate 88.5%
Haze ≤ 0.4%
Ultraviolet Radiation Blocking Rate 99%
Weather Resistance
(85℃,85% Humidity,UV,1000 hrs) Moisture Absorption  0.4-0.6%
Shrinkage  High Temperature Resistance Qualified
Moisture Resistance Qualified
Impact Resistance Against Shot-Bag Qualified
Radiation Resistance Qualified
Ball Impact Peeling Resistance Qualified
Polyvinyl Butyral PVB Interlayer Film for Laminated Glass
Polyvinyl Butyral PVB interlayer film have the impact resistance. The
single  flat glass would lead to serious injuries to human being or
other properties when it's broken, but Laminated glass with Polyvinyl
Butyral PVB interlayer film can stick the glass together when it's
impacted, which can remain it's safety. The safety of the laminated
glass with Polyvinyl Butyral PVB interlayer film is popularly
recognized as safety glass in architectural design.
And Polyvinyl Butyral PVB is good at penetration resistance, so is
better than tempered glass in Automotive windshield implication.
CNC-INTERLAYER TECH:
【1】CNC-Force® EVA INERLAYER FOR ARCHITECTURAL LAMINATED GLASS
【2】CNC-Smart® SMART FILM FOR PRIVACY SWITCHABLE GLASS
【3】CNC-Shield® PVB INTERLAYER FOR AUTOMOTIVE WINDSHIELD GLASS
Mail:
cnc@cncnext.com
Web:
www.CNCnext.com
benext77@gmail.com
/
benext77@hotmail.com
EVAFORCE® MENU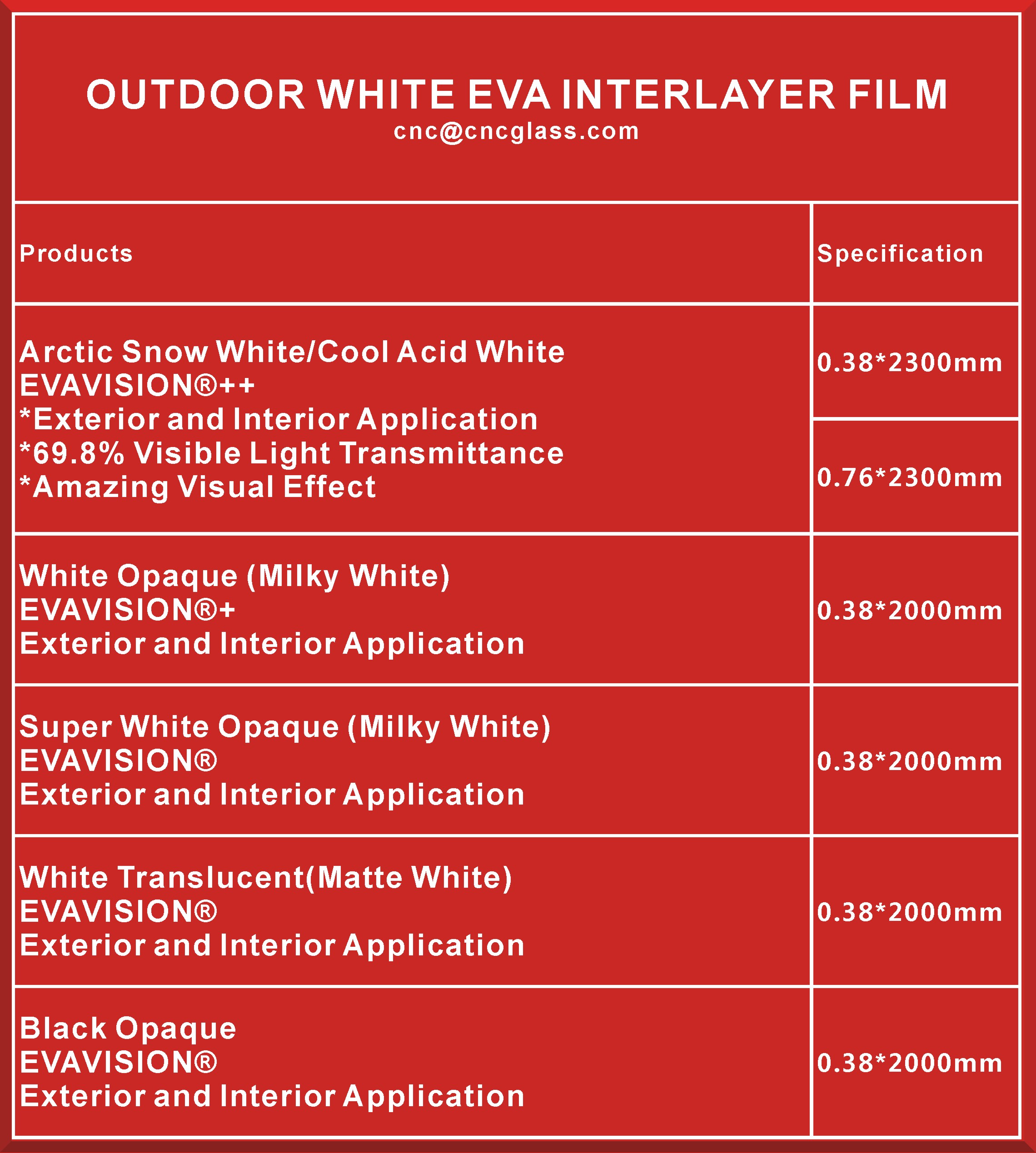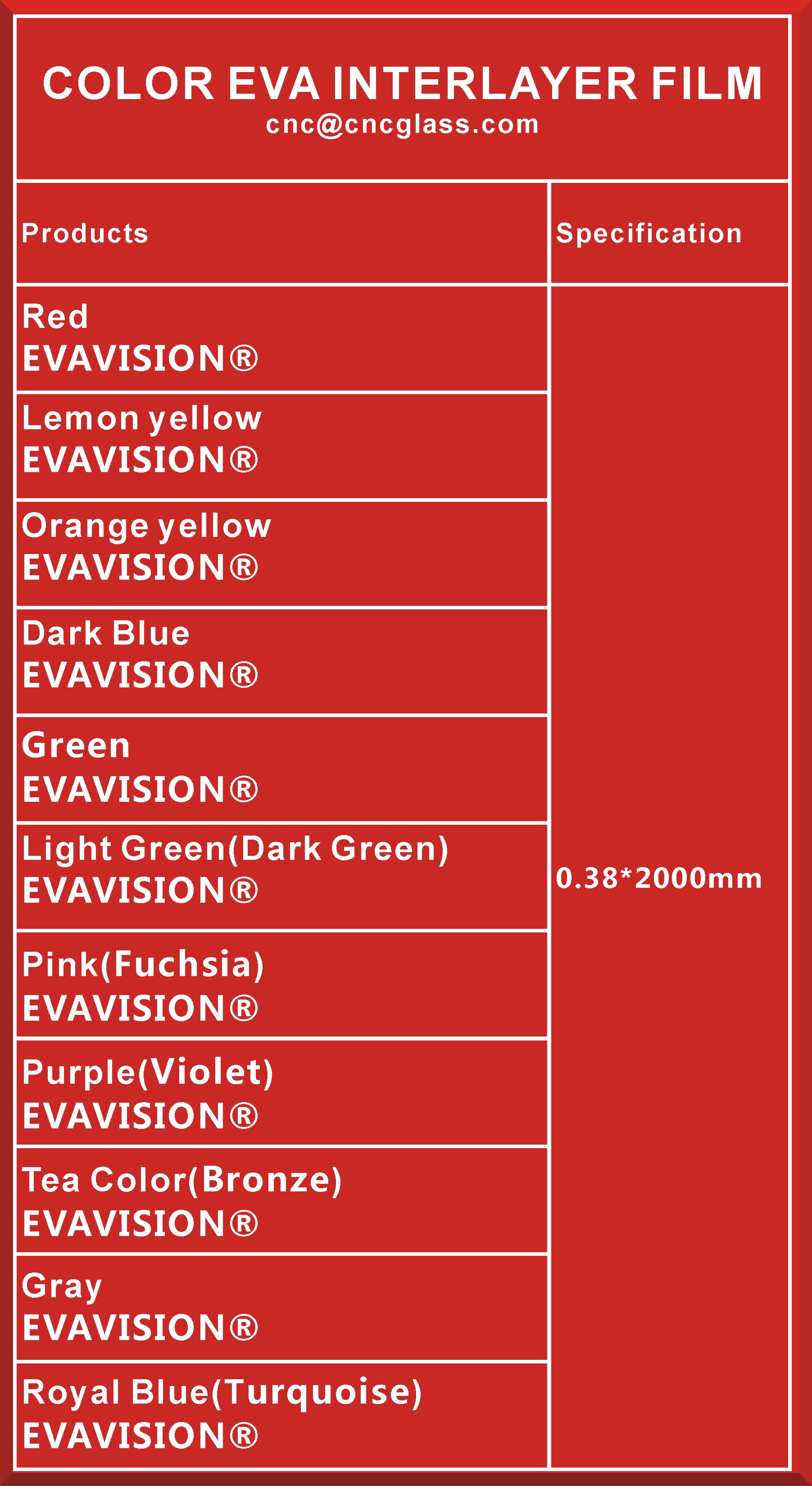 EVA Film for Laminated Glass