THE SEMIAUTOMATIC GLASS CUTTING PROCESS LINE
This product is applied to the further processing of toughened glass, especially for the barch cutting of the thick glass (5 ~ 25mm).
May according to the customer need to customized glass cutting process line to realized high efficiency production throughout the process to finish glass inputting, cutting and breaking.
SEMIAUTOMATIC DUAL-BRIDGE GLASS CUTTING MACHINE
The cutting size can be adjusted as you need. The size can be adjusted by manual or auto. The catercornet ≤±0.1mm/u, the parallelism≤±0.2mm/u. The surface of cutting table has a blowing equipment. It is easy to move the glass.
MANUAL DUAL-BRIDGE GLASS CUTTING MACHINE
This precision cutting table is suitable for mass cutting of squareness and rectangle sheet glass.
Adjust the space of cutter rack according to the requirement of cutting accuracy, then push the horizontal and vertical bridge to begin mass cutting.
High efficiency and easy operation to cut with multi-cutter and the cutting box can increase accordingly. Cutter holder with self-lubricating, and easy to change the cutter wheel. High accuracy, long using life and attractive appearance.
Glass thickness: 0.1 ~ 19mm, Max cutting size: 4900x3400mm, Min cutting size: 7mmx7mm, Accuracy: ≤±0.15mm/m.
 DONGGUAN YINRUI PRECISION MACHINERY CO., LTD.
 Add: Third Industrial Zone, Dalingya, Daojiao Town, Dongguan City, Guangdong
Province, China
 Zip Code: 523181 
 Tel: 0769-88319361 81331281 
 After-sales Services Tel: 0769-81331280 
 General manager: Ms.Zhu (0)13829263778
 Fax: 0769-88319365 
 MSN: dgyinrui@hotmail.com 
 Email: w@dgyinrui.com xiaojuan0552@163.com
 Website: www.yinruijixie.com www.dgyinrui.com 
Guangdong Dongguan Yinrui Precision Machinery Co., Ltd. is a high-tech enterprise specialized in the research, development, sales and service of precision machinery. Our company lies in the most vital city of China in economy-Dongguan City, Guangdong Province. We have advanced manufacturing equipment, best technology in China. Our sales network has spread over the whole country and is further spreading abroad.
The main D.R. projects and production projects of the company are: glass deep processing equipment, roller cutter and abnormity cutting apparatus, the cutting and breaking line of crystal glass mosaic, glass abnormity cutting equipment, the cutting line of plate glass, automatic linear abnormity cutting and circularly-cutting equipment, glass washing machine, glass cutters, glass processing machinery accessories, dual-cutting production line, manufacture of various precision equipment according to the requirements of the customers.
Our corporation has a conscientious and meticulous team with good skills. They specialize in the research and development of new products, new technology, and solving the problems for our customers to connive development. Under the guidance of advanced science and technology, we insist on the belief of "Professional production, Professional services" and regard our product quality as our lives, and we will supply customers more and better services for the development of our customers and will become more competitive.
EVAFORCE® MENU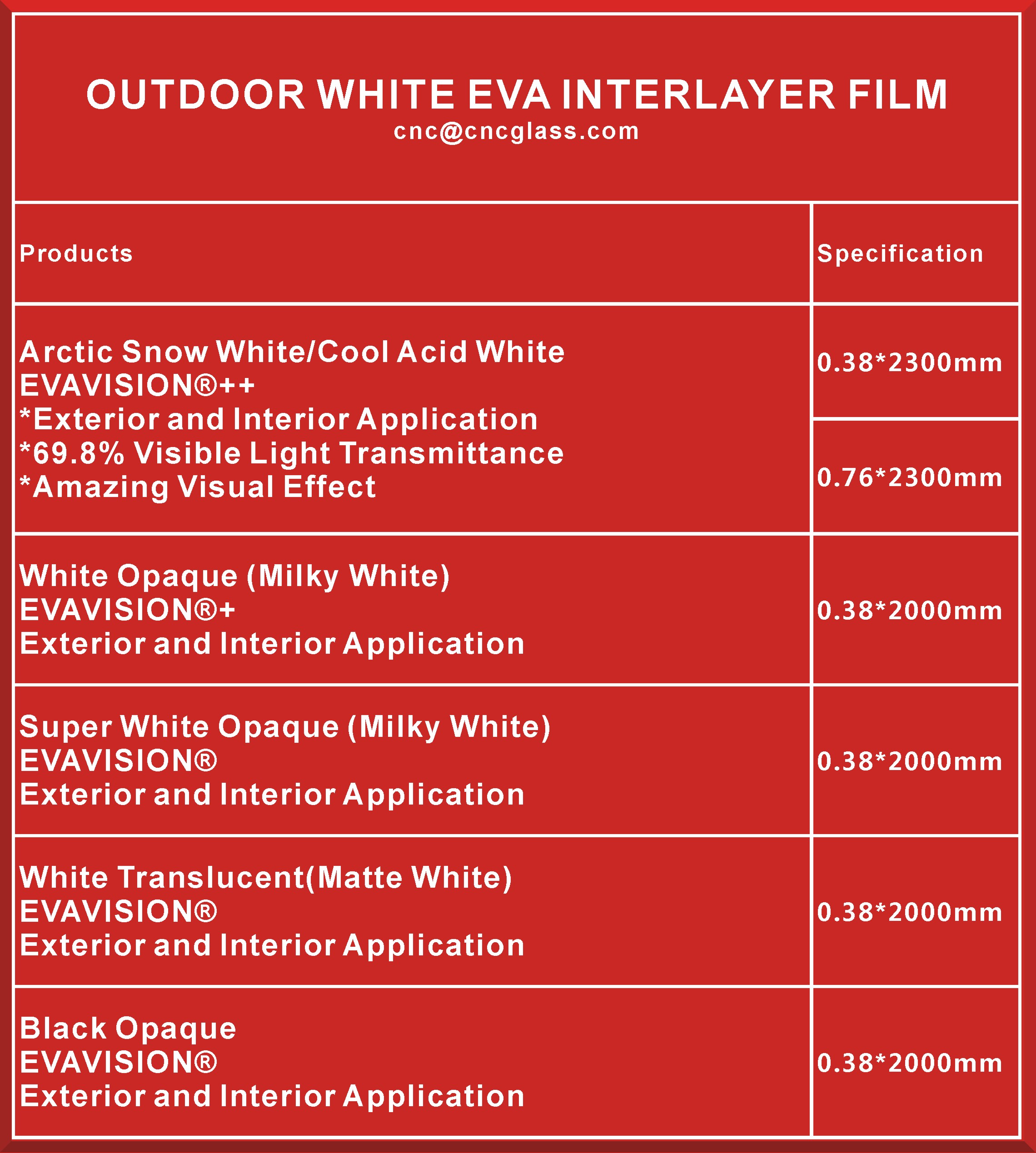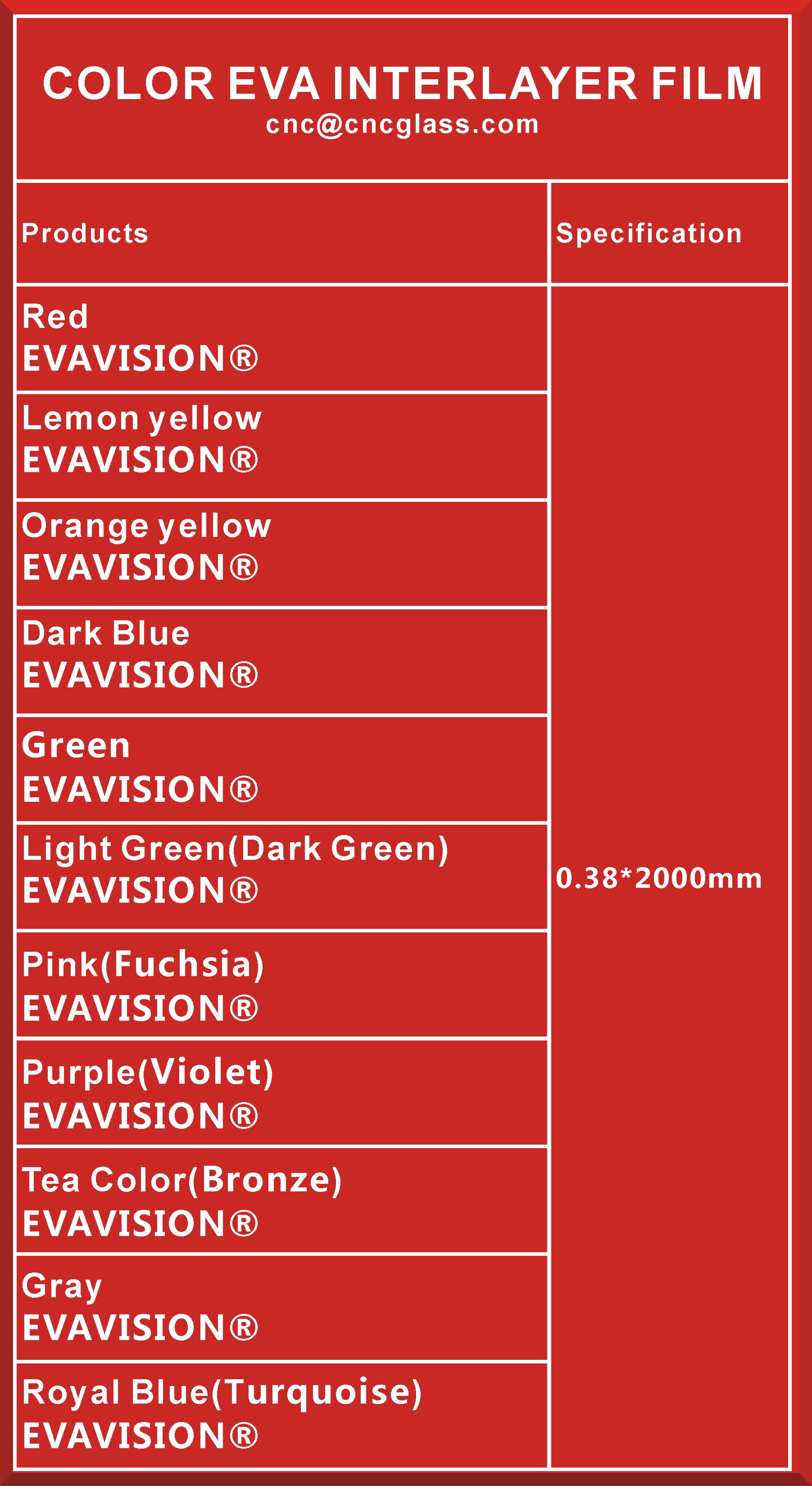 EVA Film for Laminated Glass